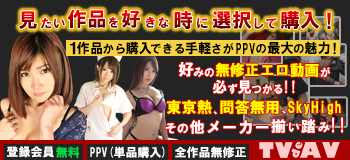 The explanation of the contents:
TVdeAV has many contents from major vendors inlucing tokyo-hot, mondo64, skyhigh or more. We are expecting more and more vendors coming in.
TVdeAV offers "Pay Per View" (PPV) for customers to purchase videos. Once you have completed download, there is no DRM associated with video(s).
Please check sample videos before you purchase, and please find your favarite videos.
there is no limitation on playing the video. As long as you store in your PC, you can play as you wish.
Payment:
credit card
Credit cards including VISA, MASTER, JCB, AMEX, DINERS, DISCOVER can be used.
billing description:
The billing descriptor will be one of followings.
HayfordHost, HSI or BPMC-AL
The number of works:
約2570movies
How much storage space do I need? :
Please check the file size of video that you are going to download.
Privacy, Protection, and Security:
Our site used SSL in order to protect transactions.